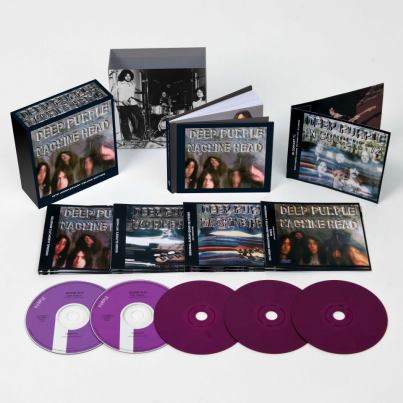 "This 4 'purple' CD+DVD deluxe edition will be accompanied with fully illustrated 64 page hardback booklet, housed in a luxury box.

CD1: 'MACHINE HEAD' ORIGINAL ALBUM NEW 2012 REMASTER
Featuring non-album b-side, 'When A Blind Man Cries'.

CD2: 1997 REMIX BY DEEP PURPLE'S BASSIST ROGER GLOVER
Remixed from the original multi-tracks, this unique version reveals many subtleties and nuances from the original recordings, heard afresh.

CD3: ORIGINAL ALBUM QUAD SQ STEREO (2012 REMASTER
Includes; the Quad SQ as stereo, in its undecoded form, it often varies considerably from the original stereo mix of the album; 'Maybe I'm A Leo' and 'Lazy' contain alternate guitar solos to the original album mix. Plus two single edits: 'Smoke On The Water' (an edit created to be the fourth single in the US from Machine Head, coupled with a live version from Made In Japan. It went on to be the band's biggest selling single ever) and 'Lazy' Japanese b-side.
(Engineered by Martin Birch Aquand SQ Stereo mixed at Abbey Road Studios, March 1972 and remastered at Abbey Road Studios, March 2012 by Peter Mew)

CD4: IN CONCERT '72 (2012 MIX) (RECORDED LIVE AT PARIS THEATRE, LONDON 9TH MARCH 1972)
Features new 2012 mix from the original 8 track tapes with the original set list in its correct order for the first time. Recorded at the BBC's Paris Theatre, London on 9th March 1972, remixed at Abbey Road Studios, and features photographs by Barry Plummer taken at the concert itself.
**All CDs are on purple discs**

DVD: 2012 HIGH RESOULTION REMASTER & SURROUND MIX
- Audio only DVD, featuring:
- The ORIGINAL ALBUM 2012 REMASTER in 96/24 LPCM stereo
- 'When A Blind Man Cries' 2012 REMASTER in 96/24 LPCM stereo
- ORIGINAL ALBUM QUAD MIX (Quad to 4.1: DTS 96/24 & Dolby Digital)
- BONUS 5.1 MIXES (5.1 DTS 96/24 & Dolby Digital) of 'When A Blind Man Cries' 'Maybe I'm A Leo' and 'Lazy'.

64 PAGE BOOK
features:
- Detailed essays from original bassist Roger Glover and Mojo magazine editor Phil Alexander.
- Quotations from Deep Purple fans Mikael Akerfelt, Luke Morley, Sebastian Vettel, Eddie Jordan, Brian Tatler, Janick Gers and Peter Hook.
- An interview with famed photographer Didi Zill, whose photos of the legendary recording sessions in Switzerland illustrate the booklet."