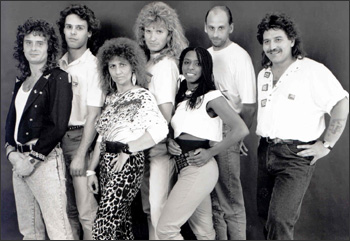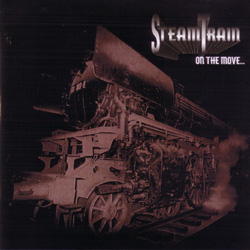 On The Move
1. Boulevard of broken freams
2. Give a little love
3. Rumours in the air
4. Rainy days
5. Grandpas chair
6. Forever tonight
7. Home sweet home
8. Spread your wings
9. Intergalactic puke
10. Summerwinds
Year of Release : 1994
Label : Epic/Sony
Band Members : Michel Koch
Zlatko Perica
Uschy Sumi
George Eichmann
Helen Pringle
Laurent Wirz
Roland Sumi
Great melodic rock album that was basically the duo of session musician George Eichmann (Amen) and ex Tangerine Dream guitarist Zlatko Perica.
Eichmann was very much like a rawer Jeff Scott Soto and the music, complimented by Pericas fantastic licks, was akin to Eyes circa
In the name "Steam Train" recently joined one of the largest daily newspaper in Switzerland. There we could read that "Eichmann George" in the states, in-house advertising and his name did so because of that he would be the biggest Swiss singer. In addition, one could find an article which claimed "Eichmann" had its 1994 "Steam Train" disc alone and the plates pushed himself bought. Well, we are dealing here with a soft AOR album to do, the tremendous heights but also some low points. The opener "Boulevard of Broken Dream" skin really nobody around, but you have to admit without a doubt the "Give Me a Little Love" is quite a catchy. Gerockt is set to "Move on it" unlikely, but it continues with "Rumors on the Air" a halfway passable low tempo AOR song. The sound of "Steam Train" will, of course, reinforced with thick keyboards, there are of course many of the melodic rock fans something to stand. "Rainy Days", you can reasonably let them kill, I would not, however, for this track. "George Eichmann" sounds to me like Einbisschen "Steve Thompson" but I like this a lot better. The best thing about "Move on it" are in my eyes, the ballads, with "Grandpa's Chair" they present us with a very soulful song is incredibly good ear set.