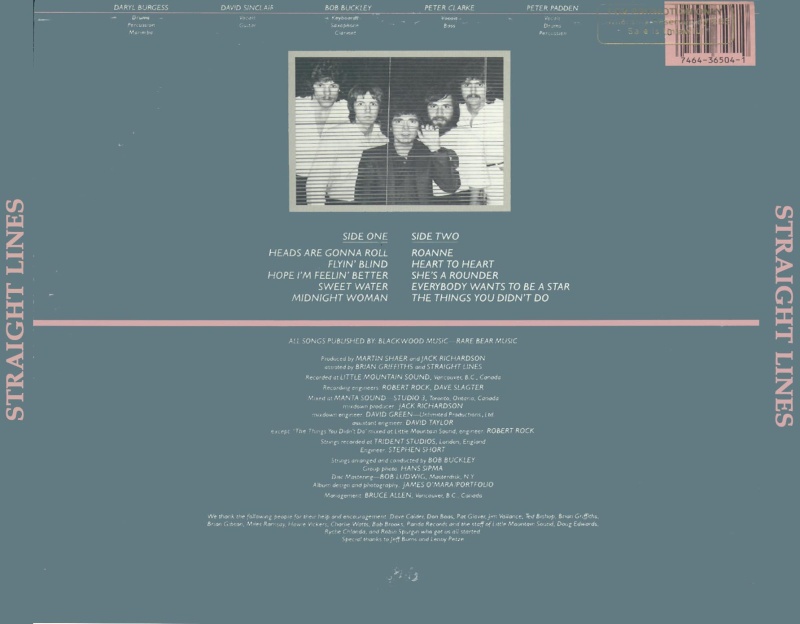 Straight Lines - 01 - Heads Are Gonna Roll
Straight Lines - 02 - Flyin Blind
Straight Lines - 03 - Hope I'm Feelin' Better
Straight Lines - 04 - Sweet Water
Straight Lines - 05 - Midnight Woman
Straight Lines - 06 - Roanne
Straight Lines - 07 - Heart To Heart
Straight Lines - 08 - She's a Rounder
Straight Lines - 09 - Everybody Wants To Be a Star
Straight Lines - 10 - The Things You Didn't Do
http://rateyourmusic.com/artist/straight_lines
http://www.glorydazemusic.com/articles.php?article_id=2237
tienen un segundo disco de STRAIGHT LINES titulado Run For Cover del 81.
Mis temas preferidos son Run For Cover,It's Gotta Be Tonight,I'm Talking To You,I've Got News For You y sobre todas la magnífica balada Letting Go,tremenda.
mas info de GD:
Straight Lines are never over-heavy and the title track is a firm indication of where they were at musically. Nice melodic riffs and vital harmonies with smooth vocals from Sinclair. Great period AOR. 'There Are No Secrets' is slower, but maintains a tough riff all the way through, superb atmospherics. 'It's Gotta Be Tonight' is a good rocker with some clever synth work, sumptuous indeed. The chorus soars with the requisite twists and turns plus a nice bridge. The hit single 'Letting Go' is a string ridden ballad with some weepy accompanying guitar. Again a thrilling bridge and these harmonies are getting out of hand! The pitch is perfect. 'Illusions' borders on Electric Light Orchestra territory, with similar string work and melody to any of their prime output. 'Lighten Up' features some crude synths and a very serious main riff, hardly what I would call lightening up! Nice nontheless. Following this are three songs all starting with either 'I've' or 'I'm'. Is a band member trying to speak to someone through the songs? Whatever the case 'I've Heard It All Before' scores big with some exciting verses, good layered melody. 'I'm Talking To You' slows it down again, definitely from the Player 'Spies Of Life' handbook, more MOR but powerful slicing keyboard touches. 'I've Got News For You' is notable for some sitar work spread throughout, but evolves into some good hard rock at the chorus thanks to some meaty riffs. The album closes with a nifty little scorcher 'Easy To Run', more than a dead ringer for the later 'The Lonely One' by Billy Satellite. Surely just a close play on words? I'm sure Chauncey and co didn't do this purposely.